This website is available in multiple languages

Heavenly King, Paraclete, Spirit of Truth, present everywhere, filling all things, treasury of blessings and giver of life, come and dwell in us, cleanse us from every stain and, O Good One, save our souls.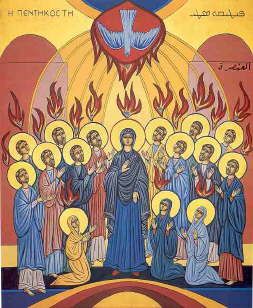 To message Archimandrite Kyril or to arrange a baptism or wedding please email the Parish Priest@bristol-orthodox-church.co.uk (Tel. 01179706302 or 07944 860 955).
For more see: CONTACTS
For current news AND DETAILS see our newsletters
In line with directions from the government and our Archdiocese:
All services in church are for the time being suspended.
The church will be open for private prayer on Sundays 11am-1pm. Social distancing is necessary within the church building.
We are waiting news and guidance from the Government and from our Archbishop as to the timing and conditions for beginning to hold services again. In the meantime online streaming of services is taking place.
As soon as this situation changes we will announce it here.
Streamed Service Replacements:
Meanwhile we must continue to pray together. In this way we shall all continue to keep holy the Lord's Day and glorify his Resurrection. On other days we can read the service of the Hours and Typika.
Text for Services:
Below are the texts of services that can be read and sung at home by one or more people.
There is no obligation to read everything in its entirety, please adapt as needed for your personal circumstances. For example, you can omit one or both of the Hours if your children can't concentrate for that long, or spread different bits of reading out among the family.
Prayers for the Coronavirus Pandemic:
Prayers have been collated that you can use specifically during this crisis.
Prayers for the Coronavirus Pandemic pdf
Online Sunday School:
Our Archdiocese of Thyateira is running Sunday afternoon online Sunday School for 6 to 18 years olds. Email youth@thyateira.org to sign up. See their web page for more details: https://www.thyateira.org.uk/
Charitable Effort:
As long as we are fit and healthy and have time, it is a Christian virtue to help others. There will be local initiatives to help others. Do keep your ears open and your hands available. Please look after your neighbours and keep in touch with the parish, friends and relatives by phone or online.

Sunday 5th July: sung Typika, 10.30 a.m. via the Parish Facebook page.

Homily for July 5th
Archimandrite Kyril Jenner
On this day we celebrate two of the great monastic saints, who are both revered as founders of major monasteries: St Athanasios of Athos (founder of the Great Lavra on Mount Athos) and St Sergios of Radonezh (founder of the Monastery of the Holy Trinity, Sergiev Posad).
There are some remarkable similarities in their lives. They both felt the call from God from an early age. They both sought a life of solitude. They both lived lives of strict asceticism. They both attracted disciples who wished to be taught by them, and ultimately to live in a community headed by them. They both experienced the presence of God shown to others in the uncreated light radiating from them. They both influenced many people outside the monastic life.
We are not all called to their form of strict asceticism, but we all need discipline in our lives. We all need to place ourselves in the service of God in whatever position he calls us to. Regularity in prayer and worship should be the framework for everything that we do. These two saints were not only followers of the practice of hesychia, the prayer of stillness, but they also took part in the formal worship of the church, the daily round of services, with regular participation in Holy Communion.
Living in the world the balance in our lives may be different, but the underlying principle should be the same. An old description of a monk is one who takes his baptismal vows seriously. We are (or should be) all on a path towards God. We may proceed at different speeds. We may take slightly different routes. But ultimately we should all have the same goal: to open ourselves to God's love, to receive forgiveness of our sins, and to find our way to serve God in this world.
The Church provides us with help along the way. We have the formal structure of our services in church to provide a framework for each day, for each week, and for each year. We have the pattern of fasting days and feasting days. We have the models of prayers produced by the saints down the ages. We have the aid of the mysteries throughout our lives: Baptism, Confession, and Holy Communion for all, with the other mysteries as needed. We have the tradition of prayer of the heart (such as by use of the Jesus Prayer) which some are called to, either intermittently or continually.
Let us pray that we may be inspired by the saints, such as St Athanasios and St Sergios, to seek daily for God's help and to follow the will of God for us in all that we do.
| | |
| --- | --- |
| | Join us on Facebook Please write a review and add any photos. |
| --- | The Food Bank is closed during the pandemic. Please continue to contribute anything you can to help those in need via your local box. |
| | |
| --- | --- |
| | See our channel for videos of services and homilies. |
Registered Charity number: 290747