University Road, Clifton, Bristol BS8 1SP.
Coronavirus Pandemic
23/3/2020 Message from Patriarch Bartholomew
24/3/2020 – As the current Coronavirus (Covid-19) continues, we must in this season of the Fast pray the more earnestly for the sick, for those who work in the Health Service, for each other, for our Parish Priest, Archimandrite Kyril, for our Parish community, for our Archbishop Nikitas, for our country and those in authority, and for the whole world. "Lord, Jesus Christ, our God, have mercy upon us and upon your world." We are a community of Love first and foremost.
But what of our parish life?
In light of the ongoing coronavirus pandemic and the new government measures announced yesterday evening by Prime Minister Boris Johnson for the containment of the virus (gov.uk/coronavirus)—which restricts functions for places of worship — our Archdiocese has decided the following:
– All churches of our Archdiocese are closed until further notice.
– Funeral services can still take place, but attendance is strictly limited to immediate family.
– Priests whose residences are in close proximity to their churches may conduct the Friday service of Salutations (Akathist) to the Mother of God and the Sunday Divine Liturgy, but with locked doors and only the chanter and sexton in attendance. PLEASE NOTE: this does not apply to our parish, so our church building will not be used for worship until restrictions are lifted.
– All clergy who are considered members of the vulnerable population for this disease (over 70 years of age or with underlying health issues) are to remain at home. Our priest Archimandrite Kyril is himself in the 'at risk' age group and so must, as far as is practicable, keep his distance from people at large. He is, however, available by telephone and email (priest@bristol-orthodox-church.co.uk 0117 970 6302/07944 860 955 ).
These are exceptional and hard decisions.
It is extremely important, however, that we as a worshipping Orthodox community continue to work together and pray together.
As we cannot physically come together on a Sunday morning at present we must do something else. What we can all do is at 10.30 on Sunday mornings (or as near as we can) we can read the service of the Hours and Typica. This way we will all be praying together and we shall all continue to keep holy the Lord's Day and glorify his Resurrection. There is a link below to the text for these services and some explanatory notes for you to print off .
No-one is under obligation to read everything its entirety, and can justifiably omit one or both of the Hours if your children can't concentrate for that long! Other adaptations might include spreading different bits of reading out among the family.
You can also access broadcasts of the Divine Liturgy and other services on the web.
Remember too, as long as we are fit and healthy, have some time and are able to go out it is a Christian virtue to help others. There will be local initiatives to ensure those confined to home are visited and so on. Do keep your ears open. As long as you are healthy, please look after your neighbours and keep in touch with friends and relatives by phone or online.
Prayers for use during the Coronavirus Pandemic
Here are the texts of services that can be read and sung at home by one or more people:
CORONOVIRUS-19
By order of HM Government, and equally of Patriarch Bartholomew of Constantinople and of our Archbishop Nikitas of Thyateira all services in our church are suspended and the church closed to the public for the time being, As soon as this situation changes we will announce it here.
Meanwhile see for more information below.
---
---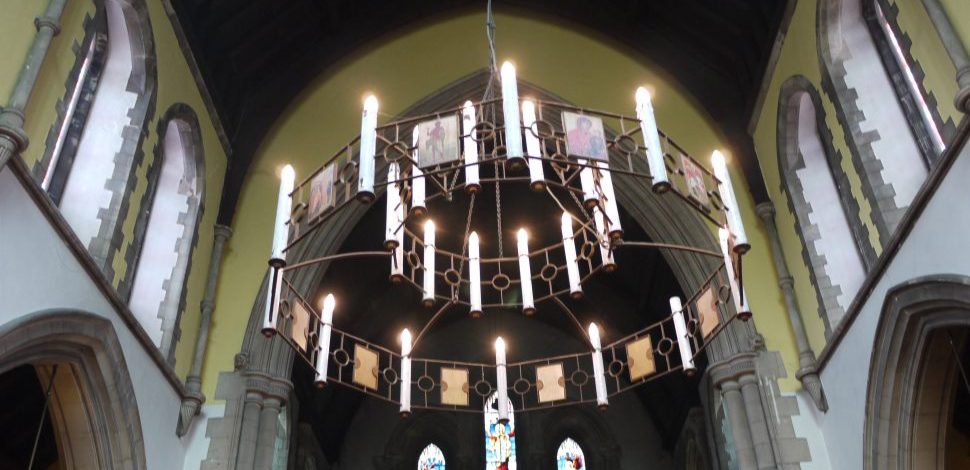 WELCOME TO OUR PARISH WEBSITE
Please use the tabs to explore the site. Do drop into church for a visit or a service when you are in Bristol – you will be very welcome. The church is normally only open for services and for a little time after, so do look up the service times .
For current news AND SERVICE DETAILS see our newsletters and Service list
Many pages of this website are available in multiple languages (see the Google Translate buttons…)
CONTACTS:
To message Archimandrite Kyril or to arrange a baptism or wedding please email the Parish Priest@bristol-orthodox-church.co.uk (Tel. 01179706302 or 07944 860 955).
For more see: CONTACT US
SERVICES
While we are unable to celebrate the Divine Services in our church, we are streaming some on line. Please see our Facebook page for up-to-date details. Some services for Holy Week and Pascha will be included and when details have been finalized we shall announce them here.
FROM ARCHIMANDRITE KYRIL FOR THE FIFTH SUNDAY OF THE GREAT FAST, THE COMMEMORATION OF ST MARY OF EGYPT:
Hebrews 9:11-14
This reading from the Epistle to the Hebrews leads us forward to the events of Good Friday, and provides us with an understanding of our Lord's action in accepting to die on the Cross. The imagery, taken from the ritual of the Temple in Jerusalem, would have been familiar to the first readers of this text, but today many of us need to investigate that ritual first in order to understand this passage.
Christ is described as a "high priest" (v.11). In the Temple there were many priests who performed sacrifices, but the High Priest alone had a special role and only he could perform certain rituals. Christ is described as "high priest of the good things to come". This contrasts with the priests of the Temple, who were mainly concerned with offering sacrifices related to events of the past.
Christ works through "the greater and more perfect tent (not made with hands, that is not of this creation)." Christ's place for offering sacrifice is in heaven, not on earth. The word translated as "tent" (σκηνή), which some English translations give as "tabernacle", refers to the Temple, or perhaps more precisely to the sanctuary of the Temple. This looks back to the time of the Exodus, when the Israelites, led by Moses, journeyed from Egypt through Sinai to the promised land. They carried with them a portable sanctuary in the form of a tent, within which the Ark of the Covenant (a box containing the stone tablets engraved with the Ten Commandments) was kept.
The sanctuary of the Temple in Jerusalem was in two parts, and only the High Priest was allowed to enter the inner part, the "Holy of Holies" (or, more simply, the "most holy place"). This only occurred on the Day of Atonement, when sacrifice was offered for forgiveness of sins. The full ritual is described in the Old Testament in Chapter 16 of Leviticus. As part of this ritual the High Priest took the blood from a bull calf and a goat that had been killed as sacrifices for atonement of sin, and entered the inner sanctuary and sprinkled it with the blood.
In today's reading from the Epistle to the Hebrews this is contrasted with our Lord's offering of his own blood on the Cross. Through this we obtain eternal redemption, not just a temporary forgiveness and purification that has to be repeated each year. Through Christ's sacrifice we are brought into a new relationship with God. Our sins are forgiven, and we are now made pure by Christ so that we can freely worship God.
In our services we find many references to the sacrifice made by Christ. This reading from Hebrews is a key passage in helping us to understand these references, and this understanding will be enhanced if we look back to what went before, as described in Leviticus 16. As we approach the commemoration of Christ's sacrifice of himself on the Cross let us repent of our sins and accept the forgiveness that comes through the blood of Christ.
---
| | |
| --- | --- |
| | Join us on Facebook Please write a review and add any photos. |
| --- | The Food Bank is now open again in church with a new closable box. Please contribute anything you can to help those in need. |
| | |
| --- | --- |
| | See our channel for videos of services and homilies. |
Registered Charity number: 290747
---